I make obeisance to you, Marpa the translator.
I pray that you grant me increase of bodhi-mind.
However beautiful a song's words may be,
it is but a tune to those
who grasp not the words of truth.

If a parable agrees not with Buddha's teaching,
however eloquent it may sound,
'Tis but a booming echo.

If one does not practice dharma,
however learned in the doctrines one may claim to be,
one is only self-deceived.

Living in solitude is self-imprisonment,
if one practices not the instructions of the oral transmission.
Labor on the farm is but self-punishment,
if one neglects the teachings of the Buddha.

For those who do not guard their morals,
prayers are but wishful thinking.
For those who do not practice what they preach,
oratory is but faithless lying.

Wrong-doing shunned, sins of themselves diminish;
Good deeds done, merit will be gained.
Remain in solitude, and meditate alone;
much talking is of no avail.
Follow what I sing, and practice dharma!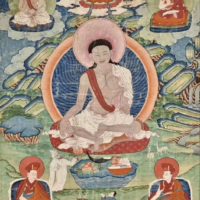 Milarepa
from the book
The Hundred Thousand Songs Of Milarepa
translated by
Garma C. C. Chang
Read a
random quote
or see
all quotes
by Milarepa.