Who feels angry? Where does this anger rise from? Is there a place where this anger is now? Is there someone who is angry, since we feel so strongly, "I am angry"? Is there a real substance, a force? Questioning in this way, it's absolutely impossible to find such a thing. There is neither a place to find, nor a substance, nor any entity. It's simply a seeming presence, a mere movement of the attention which has no reality to it whatsoever. It is like a bubble on the surface of water.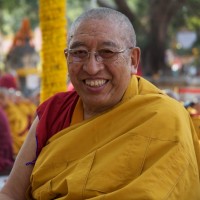 Thrangu Rinpoche
from the book
Songs of Naropa: Commentaries on Songs of Realization
Read a
random quote
or see
all quotes
by Thrangu Rinpoche.