All of saṃsāra and nirvāṇa are your own mind;
They don't arise from anything else in the slightest.
Everything, such as joy and suffering, good and bad,
High and low, are the conceptual constructs of mind.

If your mind is pure, you are buddha:
Wherever you reside is a pure realm;
Whatever you do is from the state of the dharmatā;
Whatever appears is the jewel display of wisdom.

If your mind is of an impure nature,
You'll see faults even in the buddhas,
You'll get angry even at your parents,
Most things will appear as if they were your enemies.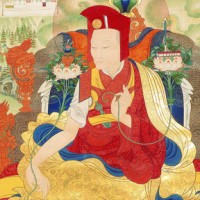 Jamgon Kongtrul Lodro Thaye
source:
https://www.lotsawahouse.org/tibetan-masters/jamgon-kongtrul/advice-to-lhawang-tashi
Read a
random quote
or see
all quotes
by Jamgon Kongtrul Lodro Thaye.