Young people think their lives will last a long time; old people think life will end soon. But we can't assume these things. Our life comes with a built-in expiration date. There are many strong and healthy people who die young, while many of the old and sick and feeble live on and on. Not knowing when we'll die, we need to develop an appreciation for and acceptance of what we have, while we have it, rather than continuing to find fault with our experience and seeking, incessantly, to fulfill our
desires.

If we find ourselves worrying whether our nose is too big or too small, we should think, "What if I had no head – now that would be a problem!" As long as we have life, we should rejoice. If everything doesn't go exactly as we'd like, we can accept it. If we contemplate impermanence deeply, patience and compassion will arise. We will hold less to the apparent truth of our experience, and the mind will become more flexible. Realizing that one day this body will be buried or burned, we will rejoice in every moment we have rather than make ourselves or others unhappy.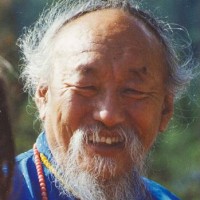 Chagdud Tulku Rinpoche
from the book
Gates to Buddhist Practice: Essential Teachings of a Tibetan Master
Read a
random quote
or see
all quotes
by Chagdud Tulku Rinpoche.