Desire and attachment won't change overnight, but desire becomes less ordinary as we redirect our worldly yearning toward the aspiration to become enlightened for the benefit of others. At the same time, we don't abandon the ordinary objects of our desires – relationships, wealth, fame – but our attachment to them lessens as we contemplate their impermanence. Not rejecting them, rejoicing in our fortune when they arise, yet recognizing that they won't last, we begin to build qualities of spiritual maturity. As our attachment slowly decreases, harmful actions that would normally result from attachment are reduced. We create less negative karma, more fortunate karma, and the mind's positive qualities gradually increase.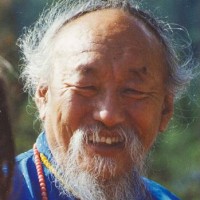 Chagdud Tulku Rinpoche
from the book
Gates to Buddhist Practice: Essential Teachings of a Tibetan Master
Read a
random quote
or see
all quotes
by Chagdud Tulku Rinpoche.