Our mind is the basis of everything, and from our mind everything arises, Samsara and nirvana, ordinary sentient beings and enlightened ones. Consider the way beings transmigrate in the impure vision of samsara: even though the essence of the mind, the true nature of our mind, is totally pure right from the beginning, nevertheless, because pure mind is temporarily obscured by the impurity of ignorance, there is no self-recognition of our own state. Through this lack of self-recognition arise illusory thoughts and actions created by the passions. Thus various negative karmic causes are accumulated and since their maturation as effects is inevitable, one suffers bitterly, transmigrating in the six states of existence. Thus, not recognizing one's own state is the cause of transmigration, and through this cause one becomes the slave of illusions and distractions.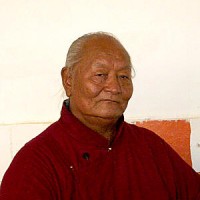 Namkhai Norbu Rinpoche
from the book
The Mirror: Advice on the Presence of Awareness
Read a
random quote
or see
all quotes
by Namkhai Norbu Rinpoche.
Further quotes from the book The Mirror: