Though we're conditioned to identify with the thoughts that pass through our awareness rather than with awareness itself, the awareness that is our true nature is infinitely flexible. It is capable of any and every sort of experience – even misconceptions about itself as limited, trapped, ugly, anxious, lonely, or afraid. When we begin to identify with that timeless, pristine awareness rather than with the thoughts, feelings, and sensations that pass through it, we've taken the first step toward facing the freedom of our true nature.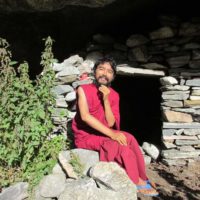 Mingyur Rinpoche
from the book
Joyful Wisdom: Embracing Change and Finding Freedom
Read a
random quote
or see
all quotes
by Mingyur Rinpoche.
Further quotes from the book Joyful Wisdom: