If you merely talk about the view of emptiness but at the same time behave inconsiderately, it is said that your conduct has become lost in the view. If you believe that, since everything is empty by nature, it is all right to do whatever you want and it makes no difference whether your actions are virtuous or non-virtuous, then your conduct has become "lost in the view." All the great teachers say just the opposite — that the more you understand the view of emptiness, the more aware and careful you are regarding the law of cause and effect.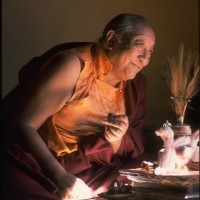 Dilgo Khyentse Rinpoche
from the book
Pith Instructions: Selected Teachings and Poems
Read a
random quote
or see
all quotes
by Dilgo Khyentse Rinpoche.