To progress, we need the constant guidance of a qualified teacher. As we report to him the progress of our meditation and describe our experiences, he may say, "You should relax more," or on the contrary, "Be more vigilant." It is important at this time to rely upon a teacher's instructions. When the great Gampopa had many spiritual experiences, he explained them to Jetsun Milarepa and was thus able to avoid deviations and continue to progress.

Once you've been introduced to this nature of the mind, you should achieve stability and confidence in recognizing it, so that the mind remains in that state of simplicity without wavering.

If we allow water to remain still without agitating it, it becomes limpid and transparent; but if we stir it up with a stick, mud rises and the water becomes turbid. Likewise, leave the mind in a state of natural clarity, without interference, so that awareness remains limpid.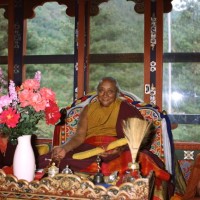 Dilgo Khyentse Rinpoche
from the book
Pith Instructions: Selected Teachings and Poems
Read a
random quote
or see
all quotes
by Dilgo Khyentse Rinpoche.