We are naturally attached to comfort and pleasure and bothered by physical and mental suffering. These innate tendencies lead us to seek out, maintain and try to increase whatever gives us pleasure comfortable clothing, delicious food, agreeable places, sensual pleasure – and to avoid or destroy whatever we find unpleasant or painful. Constantly changing and devoid of any true essence, these sensations rest on the ephemeral association of the mind with the body, and it is useless to be attached to them. Rather than being dragged along and trapped by your perceptions, just let them dissolve as soon as they form, like letters traced on the surface of water with your finger disappearing as you draw them.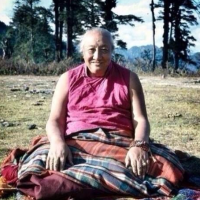 Dilgo Khyentse Rinpoche
from the book
The Hundred Verses of Advice: Tibetan Buddhist Teachings on What Matters Most
Read a
random quote
or see
all quotes
by Dilgo Khyentse Rinpoche.