Taking refuge doesn't protect us from problems in the world. It doesn't shield us from war, famine, illness, accidents, and other difficulties. Rather, it provides tools to transform obstacles into opportunities. We learn how to relate to difficulties in a new way, and this protects us from confusion and despair. Traffic jams do not disappear, but we might not respond by leaning on our horns or swearing. Illnesses may afflict us, but we might still greet the day with a joyful appreciation for being alive. Eventually we rely on the best parts of our being in order to protect ourselves from those neurotic tendencies that create dissatisfaction. This allows for living in the world with greater ease and without needing to withdraw into untrustworthy circumstances in order to feel protected.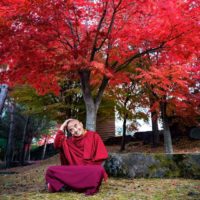 Mingyur Rinpoche
source:
https://www.lionsroar.com/why-we-take-refuge
Read a
random quote
or see
all quotes
by Mingyur Rinpoche.