This experience of luminosity is nothing but the nature of your mind. Remaining in that state of utter simplicity will bring you to the realization that the space-like nature of mind is the Dharmakaya; that is expression, luminosity or wisdom, is the Sambhogakaya; and that it's manifestation, all–providing compassion, is the Nirmanakaya. You will realize that the object of refuge, the three jewels, is not something outside you, but naturally present within your mind. This is the ultimate refuge.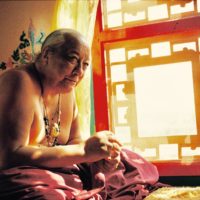 Dilgo Khyentse Rinpoche
from the book
The Excellent Path to Enlightenment: Oral Teachings on the Root Text of Jamyang Khyentse Wangpo
Read a
random quote
or see
all quotes
by Dilgo Khyentse Rinpoche.