The realization that all phenomena of samsara and enlightenment are emptiness inseparable from naked awareness is the view.

To release present awareness within the spacious natural state and then to sustain the self-liberation of thoughts without grasping is meditation.

All post-meditative activity done harmoniously with the Dharma is the conduct.

The complete manifestation of that abiding nature is the result.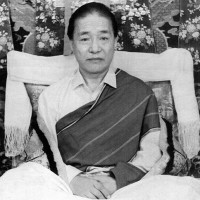 Dudjom Rinpoche
from the book
Wisdom Nectar: Dudjom Rinpoche's Heart Advice
Read a
random quote
or see
all quotes
by Dudjom Rinpoche.
Further quotes from the book Wisdom Nectar: