At present we perceive samsara as something we have to reject and nirvana as something we have to attain. Now while this is correct according to relative truth, according to absolute truth the nature of the afflictive emotions and actions that we are supposed to reject is nothing other than emptiness. When we realize the dharmakaya, which is free from true existence, we will know that all perceptions are similar to a dream or an illusion and we will no longer crave these phenomena. As it is said, 'While there is attachment, there is no view.' And the absence of attachment is the supreme view.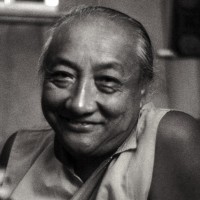 Dilgo Khyentse Rinpoche
from the book
Zurchungpa's Testament
Read a
random quote
or see
all quotes
by Dilgo Khyentse Rinpoche.