Someone who has faith in the Three Jewels and the teacher, who is interested in hearing, reflecting, and meditating, and who is very diligent should be given the teachings without reserve, for this will bring great benefit. "Instructions" here refers to major instructions — the profound instructions that lead to liberation and enlightenment — and not to minor instructions for curing sickness, dispelling obstacles, and creating prosperity in this life.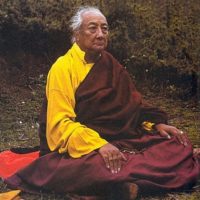 Dilgo Khyentse Rinpoche
from the book
Zurchungpa's Testament
Read a
random quote
or see
all quotes
by Dilgo Khyentse Rinpoche.