Experiences are like mist: they will fade away. Practitioners who spend their time practicing in seclusion are certain to have many different experiences, but these experiences are very unreliable. As it is said, experiences are like rainbows, but the great meditator who runs after them like a child will be deceived. We may occasionally have flashes of clairvoyance, seeing things we cannot ordinarily know. We may have signs of accomplishment, or predictions from the deity or the dakinis. But such experiences in most cases give rise to hope and expectation. They are none other than the tricks of demons: they simply cause obstacles. When true realization dawns in one's mind, it is like the king of mountains, Mount Meru, which no wind can shake.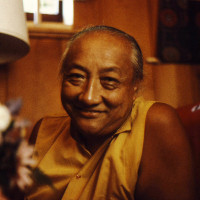 Dilgo Khyentse Rinpoche
from the book
Zurchungpa's Testament
Read a
random quote
or see
all quotes
by Dilgo Khyentse Rinpoche.