The self-arisen wisdom, which is also called bodhichitta, is not something that has been fabricated, a new product created by the conjunction of causes and conditions. It never has changed, never changes, and never will change. The absolute nature remains what it is, perfectly pure, at all times. Even if it appears obscured for impure beings at the start of the path, it has never actually been obscured. If it seems to be a mixture of pure and impure during the course of the path, it in fact always remains pure. And at the time of the result, perfect enlightenment, it is simply the same ground nature made evident and not something new that was not there before. So even though all the hallucinations that make up existence fall like rain from the sky, it cannot affect one's confidence: the kinglike bodhichitta that is the doer-of-everything will never be stained or dampened.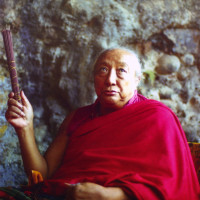 Dilgo Khyentse Rinpoche
from the book
Zurchungpa's Testament
Read a
random quote
or see
all quotes
by Dilgo Khyentse Rinpoche.