Since our fundamental problem is distraction, its fundamental solution is to be mindful. There are an infinite number of methods for developing mindfulness that all fall into one of two categories: shamatha or vipashyana. The point of shamatha practice is to make mind malleable. But a pliant mind alone will not uproot samsara completely, we also need to see the truth, which is why vipashyana practice is so crucial.

Unfortunately, though, mindfulness is difficult, mostly because we lack the enthusiasm to develop it, but also because our habit of longing for distraction is both deeply ingrained and extremely tenacious. It is therefore vital for a dharma practitioner to develop renunciation mind and to recognise the defects of samsara, both of which lie at the core of the Buddhist approach to training the mind.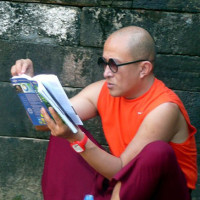 Dzongsar Khyentse Rinpoche
from the book
Not for Happiness: A Guide to the So-Called Preliminary Practices
Read a
random quote
or see
all quotes
by Dzongsar Khyentse Rinpoche.