It is such a mistake to assume that practicing dharma will help us calm down and lead an untroubled life; nothing could be further from the truth. Dharma is not a therapy. Quite the opposite, in fact; dharma is tailored specifically to turn your life upside down — it's what you sign up for. So when your life goes pear-shaped, why do you complain? If you practice and your life fails to capsize, it is a sign that what you are doing is not working. This is what distinguishes the dharma from New Age methods involving auras, relationships, communication, well-being, the Inner Child, being one with the universe, and tree hugging. From the point of view of dharma, such interests are the toys of samsaric beings — toys that quickly bore us senseless.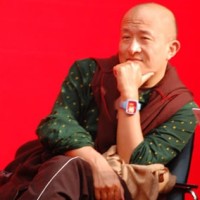 Dzongsar Khyentse Rinpoche
from the book
Not for Happiness: A Guide to the So-Called Preliminary Practices
Read a
random quote
or see
all quotes
by Dzongsar Khyentse Rinpoche.