When you have truly attained the realization of this emptiness, you will be like the venerable Milarepa or Guru Rinpoche, who were unaffected by the heat of summer or the cold of winter, and who could not be burned by fire or drowned in water. In emptiness there is neither pain nor suffering. We, on the other hand, have not understood the empty nature of the mind and so, when bitten by even a small insect, we think, 'Ouch! I've been bitten. It hurts!' or, when someone says something unkind, we get angry. That is a sign that we have not realized the mind's empty nature.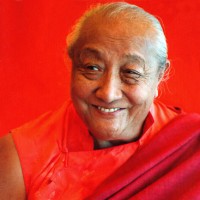 Dilgo Khyentse Rinpoche
from the book
Enlightened Courage: An Explanation of the Seven-Point Mind Training
Read a
random quote
or see
all quotes
by Dilgo Khyentse Rinpoche.