A bedridden patient only thinks about getting well again. He or she has no wish to remain sick forever. Likewise, a practitioner who yearns to leave the miseries of samsara behind will make use of all the ways in which that can be done, such as taking refuge, generating the mind set on attaining enlightenment for the sake of others, undertaking positive actions and so on, with a firm determination to get out of samsara constantly in mind.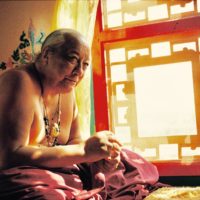 Dilgo Khyentse Rinpoche
from the book
The Heart of Compassion: The Thirty-seven Verses on the Practice of a Bodhisattva
translated by
Padmakara Translation Group
Read a
random quote
or see
all quotes
by Dilgo Khyentse Rinpoche.