Many gurus claim they are straight shooters: they say what they think without inhibition or filters. But if they dish it out, they should be able to take it. They should embody tolerance. But most of the time, critical gurus don't tolerate criticism very well. One way to check is to watch how the guru handles bad publicity. Check the Internet to see whether he or she has ever been met with scandal, and if so, how did he or she react? How a person handles praise and criticism, gain and loss, fame and insignificance, happiness and suffering is all very telling.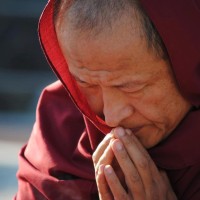 Dzongsar Khyentse Rinpoche
from the book
The Guru Drinks Bourbon?
Read a
random quote
or see
all quotes
by Dzongsar Khyentse Rinpoche.