I know what loneliness feels like. Many people use the title His Holiness to refer to me, but I sometimes joke that His Loneliness would be more accurate. In my own case, although I do not connect to people online, I do have lots of people surrounding me all day long, supporting me in different ways, as well as other people coming to see me. It would seem I should never be lonely. However, I am seen as the reincarnation of a 900-year-old historical figure. In traditional Buddhist terms, the Karmapa is a lofty figure, on a par with the Buddha. People who view me in this way expect me to be a mind reader, a miracle worker, and perfect in every way. When they look at me, this is quite often what many people believe they are seeing. Forget about being on a pedestal, I am practically expected to float in the sky!
For so holy and exalted a personage, it is a little complicated to go about finding friends. Who wants to be friends with someone who is considered to be not entirely human? In terms of social media like Facebook, I am a public figure. This means I can have only a following and LIKES, but I cannot have FRIENDS. In any case, someone else maintains my presence on social media. If I wanted to connect with my friends on social media, I would need to use a pseudonym, which would be unethical for me. In any case, posing as someone else defeats the whole purpose of a real friendship.
I know that my life situation is unusual, to say the least, but we all have to deal with unrealistic expectations that others project onto us. Such projections can leave us feeling isolated and prevent us from being seen for who we really are.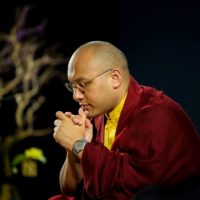 17th Karmapa
from the book
Interconnected: Embracing Life in Our Global Society
Read a
random quote
or see
all quotes
by the 17th Karmapa.
Further quotes from the book Interconnected: