Applying attention practice, we use our emotions as a focus for developing awareness, an opportunity to look at the 'looker'. Just as we need sound to look at sound, form to look at form, we need emotions to look at emotions. In fact, intense emotions can be our best friends in terms of stabilizing the mind, giving the restless bird a branch on which to rest.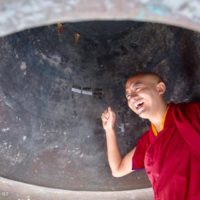 Mingyur Rinpoche
from the book
Joyful Wisdom: Embracing Change and Finding Freedom
Read a
random quote
or see
all quotes
by Mingyur Rinpoche.
Further quotes from the book Joyful Wisdom: