As long as you accept and practice these four truths (all compounded things are impermanent, all emotions are pain, all things have no inherent existence, nirvana is beyond concepts) you are a "practicing Buddhist." You might read about these four truths for the sake of entertainment or mental exercise, but if you don't practice them, you are like a sick person reading the label on a medicine bottle but never taking the medicine. On the other hand, if you are practicing, there is no need to exhibit that you are Buddhist. As a matter of fact, if it helps you to get invited to some social functions, it is totally fine to hide that you are a Buddhist. But keep in mind that as a Buddhist, you have a mission to refrain as much as possible from harming others, and to help others as much as possible. This is not a huge responsibility, because if you genuinely accept and contemplate the truths, all these deeds flow naturally.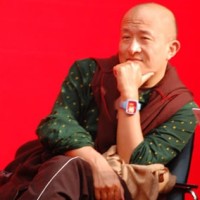 Dzongsar Khyentse Rinpoche
from the book
What Makes You Not a Buddhist
Read a
random quote
or see
all quotes
by Dzongsar Khyentse Rinpoche.