In our everyday lives we have this impulse to shield ourselves and others from the truth. We've become impervious to obvious signs of decay. We encourage ourselves by "not dwelling on it" and by employing positive affirmations.

We celebrate our birthdays by blowing out candles, ignoring the fact that the extinguished candles could equally be seen as a reminder that we are a year closer to death. We celebrate the New Year with firecrackers and champagne, distracting ourselves from the fact that the old year will never come back and the new year is filled with uncertainty—anything can happen.

When that "anything" is displeasing, we deliberately divert our attention, like a mother distracting a child with rattles and toys.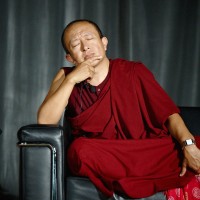 Dzongsar Khyentse Rinpoche
from the book
What Makes You Not a Buddhist
Read a
random quote
or see
all quotes
by Dzongsar Khyentse Rinpoche.