Tantric practitioners are not really worshipping a guru because of his personality, his achievements, his charisma, or his reputation. It's nothing personal at all. A tantric practitioner has to see everyone as the guru. Not only that, a tantric practitioner has to see everything as the guru's form, every sound as the guru's voice, and every thought as the guru's mind. So eventually all your idealizing, sycophanting, and ass kissing of a guru will mature so that you will do that to everyone, even those who irritate you the most, and everything that enters your consciousness. When that starts to happen, you are beginning to subdue and outshine appearance and existence instead of existence and appearance subduing and outshining you, which is probably what is happening in your experience of phenomena now.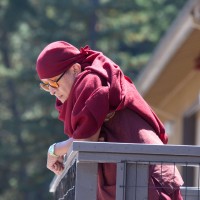 Dzongsar Khyentse Rinpoche
from the book
The Guru Drinks Bourbon?
Read a
random quote
or see
all quotes
by Dzongsar Khyentse Rinpoche.