Buddha-nature is pure, undefiled, unelaborated, unconditioned, transcending all concepts. It is not an object of dualistic thought and intellectual knowledge. It is, however, open to gnosis, intuition, the nondual apperception of intrinsic awareness itself, prior to or upstream of consciousness. Adventitious obscurations temporarily veil and, like clouds, obscure this pristine, sky-like, luminous fundamental nature or mind essence—also known as tathagatagarbha, buddha-nature.

All conventional practices along the gradual path to liberation and enlightenment aim to uncover this innate wisdom by removing and dissolving the obscurations, revealing what has always been present. This is the relation between how things appear to be and how things actually are: in short, the two levels of truth, absolute and relative or conventional truth. According to these two truths, there are different levels of practice.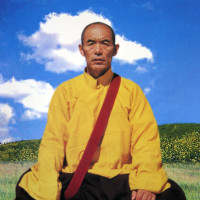 Nyoshul Khen Rinpoche
from the book
Natural Great Perfection: Dzogchen Teachings And Vajra Songs
source:
https://www.shambhala.com/snowlion_articles/get-out-of-the-construction-business/
Read a
random quote
or see
all quotes
by Nyoshul Khen Rinpoche.