What are the signs of progress in our practice? What can we expect? Should we wait for a signal from the guru — or an award? According to Karma Chagme Rinpoche, we will have no experiences, no special dreams, no pure visions. The "king of all signs," also known as the "sign of no-sign," which was highly prized by the Kagyupa masters of the past, is when renunciation mind, sadness and devotion blaze in your mind. The signs to be cherished most include an escalating appetite for dharma practice; noticing the futility of everything you do; ever-increasing conflicts as a result of old habits; and while you may still have the urge to party with your friends, to be plagued by the unwelcome sense that the whole thing is a useless waste of time. Therefore do not constantly aim to finish the practice. Instead, try to accept that your spiritual journey will never end. Your journey began with the wish that you, personally, bring all sentient beings to enlightenment, so until that wish is fulfilled, your activities as a bodhisattva will never cease.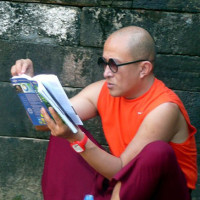 Dzongsar Khyentse Rinpoche
from the book
Not for Happiness: A Guide to the So-Called Preliminary Practices
Read a
random quote
or see
all quotes
by Dzongsar Khyentse Rinpoche.