Remembering everything you experience is created by mind is also the direct antidote to pride and ego, and once it becomes second nature, you will no longer cling to your dharma activities. This does not mean you will not practise. On the contrary, in the same way someone dying of thirst cannot resist taking large gulps of water, once you know everything is an illusion, your only thoughts will be about the dharma. Of course, the dharma itself is the antidote to ego, but for those who take pride in being good practitioners, dharma activities can be just another means of boosting their egos. And this is why it is so important to remember that absolutely everything we experience is just a product of mind, even if it's only for five minutes a day.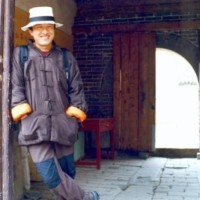 Dzongsar Khyentse Rinpoche
from the book
Not for Happiness: A Guide to the So-Called Preliminary Practices
Read a
random quote
or see
all quotes
by Dzongsar Khyentse Rinpoche.