Many spiritual paths have as their basis the principle of compassion, of benefiting others. In the Mahayana Buddhist tradition, for example, compassion is one of the fundamental points of the practice, together with the knowledge of the true nature of phenomena, or voidness. Sometimes, however, compassion can become something constructed and provisional, because we don't understand the real principle of it. A genuine, not artificial, compassion, can only arise after we have discovered our own condition. Observing our own limits, our conditioning, our conflicts and so on, we can become truly conscious of the suffering of others, and then our own experience becomes a basis or model for being able to better understand and help those around us.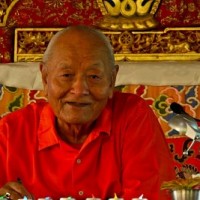 Namkhai Norbu Rinpoche
from the book
Dzogchen: The Self-Perfected State
source:
https://www.shambhala.com/snowlion_articles/dzogchen-the-self-perfected-state/
Read a
random quote
or see
all quotes
by Namkhai Norbu Rinpoche.
Further quotes from the book Dzogchen: