Self-existing wakefulness is the realized state of all buddhas from the very beginning; it is primordial. Self-existing wakefulness is in all beings; it simply needs to be known. Our chance to do so comes when it is introduced to us by a qualified master. Our inherently present wakefulness is not something we'll find in the future, nor something we had in the past. It's present 'right now'. And it's something that we don't have to accept or reject. Don't do anything about it: don't adopt it, don't avoid it, don't entertain any hope or fear about it, don't try to change it or alter it or improve it in any way. It is not necessary at all.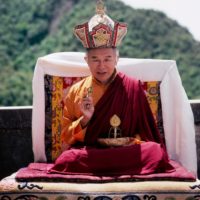 Tulku Urgyen Rinpoche
from the book
As It Is, Vol. 1
translated by
Erik Pema Kunsang
Read a
random quote
or see
all quotes
by Tulku Urgyen Rinpoche.