Hope and fear come from feeling that we lack something; they come from a sense of poverty. We can't simply relax with ourselves. We hold on to hope, and hope robs us of the present moment. We feel that someone else knows what's going on, but that there's something missing in us, and therefore something is lacking in our world.

Rather than letting our negativity get the better of us, we could acknowledge that right now we feel like a piece of shit and not be squeamish about taking a good look. That's the compassionate thing to do. That's the brave thing to do. We can't just jump over ourselves as if we were not there. It's better to take a straight look at all our hopes and fears. Then some kind of confidence in our basic sanity arises.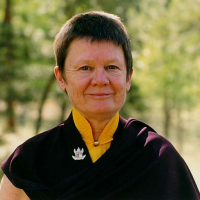 Pema Chödron
from the book
When Things Fall Apart: Heart Advice for Difficult Times
Read a
random quote
or see
all quotes
by Pema Chödron.