Limit yourself to just a few activities and undertake them all with diligence.
Not allowing your mind to become fidgety and restless,
Make yourself comfortable on the seat in your retreat cabin,
This is the surest way to gain the riches of a Dharma practitioner.

You might remain sealed in strict retreat for months or even years,
But if you fail to make any progress in the state of your mind,
Later, when you tell everyone about all that you did over such a long time,
Aren't you just bragging about all the hardships and deprivation?
And all their praise and acknowledgements will only make you proud.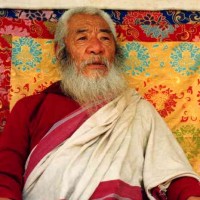 Chatral Rinpoche
from the book
Compassionate Action
translated by
Adam Pearcey
source:
http://www.lotsawahouse.org/tibetan-masters/chatral-rinpoche/words-advice
Read a
random quote
or see
all quotes
by Chatral Rinpoche.