With a single stroke we are freed from bondage;
nothing clings to us and we hold to nothing.
All is empty, clear, self-illuminating,
with no exertion of the mind's power.
Here thought, feeling, knowledge, and imagination are of no value.
In this world of Suchness
there is neither self nor other-than-self.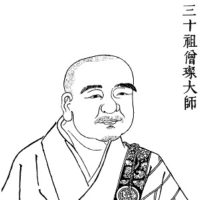 Sengcan
from the book
Hsin-Hsin Ming: Verses on the Faith-Mind
translated by
Richard B. Clarke
source:
http://terebess.hu/english/hsin.html#3
Read a
random quote
or see
all quotes
by Sengcan.
Further quotes from the book Hsin-Hsin Ming: