The mind inhabits the body like a visitor in a house. Whatever the body encounters, it is the mind that sees, hears, smells, tastes, or feels it. Once the mind has gone, the body is just a corpse. It doesn't care whether what is placed in front of it is beautiful or ugly. It doesn't care whether it is praised or insulted. It feels no pleasure when it is wrapped in brocade, no pain when it is burned. By itself, the body is an object not essentially different from a lump of earth or stone.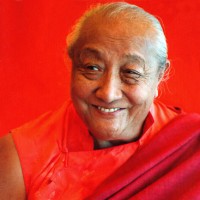 Dilgo Khyentse Rinpoche
quoted in the book
The Heart Treasure of the Enlightened Ones
Read a
random quote
or see
all quotes
by Dilgo Khyentse Rinpoche.