It is said that there is no greater evil than hatred and no greater virtue than patience. While a single moment of anger destroys countless aeons of merits and leads to unmitigated suffering in the hell realms, patience towards those who harm you and the sincere wish to bring them happiness will bring you swiftly onto the path taken by all the Buddhas.

There is no better way to deal with enemies than to feel great love for them, realizing that in former lives they have been your loving parents. There is no better way to nurture your family and look after others than to practice the Dharma and dedicate to all beings the merit you thereby obtain. There is no better or more bountiful harvest than the one you sow in the soil of your faith and endeavor so that it ripens into the richness of merit and wisdom.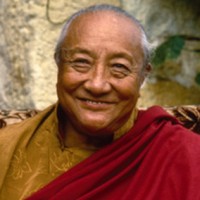 Dilgo Khyentse Rinpoche
from the book
The Heart Treasure of the Enlightened Ones
Read a
random quote
or see
all quotes
by Dilgo Khyentse Rinpoche.