Most people, thinking of the future, make a lot of plans — but the future they plan for is only the very few years of this life. This is very shortsighted; we have such a long way to go in lives to come. Death is just the threshold, which we have to cross alone, aided only by our faith in the teacher and the Three Jewels and by our confidence in the practice. Relatives, friends, power, wealth, and whatever else we have become so used to relying on will simply no longer be there.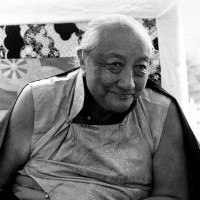 Dilgo Khyentse Rinpoche
from the book
The Heart Treasure of the Enlightened Ones
Read a
random quote
or see
all quotes
by Dilgo Khyentse Rinpoche.