The mind has, in general, two aspects, stillness and movement. Sometimes, the mind is quiet and free from thoughts, like a calm pool; this is stillness. Eventually, thoughts are bound to arise in it; this is movement. In truth, however, although in a sense there is a movement of thoughts within the stillness, there is actually no difference between these two states — just as the nature of stillness is voidness, the nature of movement is also voidness. Stillness and movement are merely two names for the one mind.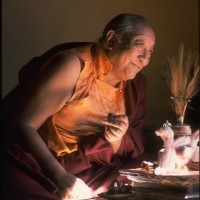 Dilgo Khyentse Rinpoche
from the book
The Heart Treasure of the Enlightened Ones
Read a
random quote
or see
all quotes
by Dilgo Khyentse Rinpoche.