Right now, you may be experiencing all sorts of happiness and pleasure; but this won't last, so do not become attached to it. In this life you are bound to experience all sorts of difficulties, sickness, and other troubles; it is important to see in them the truth of the teachings.

Whenever we experience pain or pleasure, misery or contentment, it is due to our actions in past lives. If you are now healthy, famous, or rich, it is because of meritorious actions you performed in the past. If you suffer from illness, obstacles, or trouble some circumstances, that is the result of your past negative actions. But whatever circumstances you find yourself in, you can purify your mind; when in pain, you can pray from the core of your heart that your suffering may be a substitute for the suffering of others, so that all their pain and suffering will be exhausted forever. The more you suffer, the more you can practice taking on the suffering of all beings.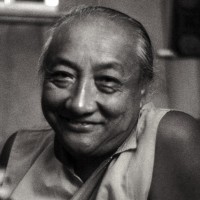 Dilgo Khyentse Rinpoche
from the book
The Heart Treasure of the Enlightened Ones
Read a
random quote
or see
all quotes
by Dilgo Khyentse Rinpoche.