To cut through the mind's clinging, it is important to understand that all appearances are void, like the appearance of water in a mirage. Beautiful forms are of no benefit to the mind, nor can ugly forms harm it in any way. Sever the ties of hope and fear, attraction and repulsion, and remain in equanimity in the understanding that all phenomena are nothing more than projections of your own mind.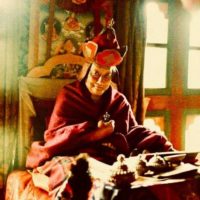 Dilgo Khyentse Rinpoche
from the book
The Heart Treasure of the Enlightened Ones
translated by
Padmakara Translation Group
Read a
random quote
or see
all quotes
by Dilgo Khyentse Rinpoche.